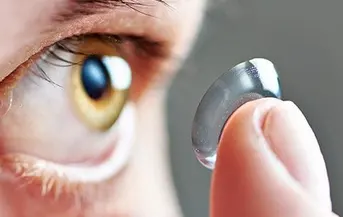 Wear With Confidence and Comfort

In addition to a comprehensive eye examination, a contact lens fitting includes special tests and measurements which evaluates suitability for contact lens wear, the lens fit, necessary lens care kits, individual instructions for wear and care and follow-up visits over a specified time.
The Right Contacts

Our Doctors and staff have extensive experience with contact lens fitting and we provide all major brands of contact lenses.
Save money without the risk
We will help you with vision plans and manufacturer rebates to insure your receiving the best value for your money. You will find that purchasing your contact lenses through Sunshine Eye Clinic is more convenient and in most cases less expensive than buying online. You also receive the benefit of fresh lenses in the event of an emergency and confidence knowing we are here to help when you need us.
Specialty Contacts - We do that too
We also provide specialty lenses including, Rigid Gas Permeable (RGP), Scleral, and Keratoconus. We will find the right contact lens for your individual needs.