Established February, 2022
Sunshine Eye Clinic Patient Loyalty Program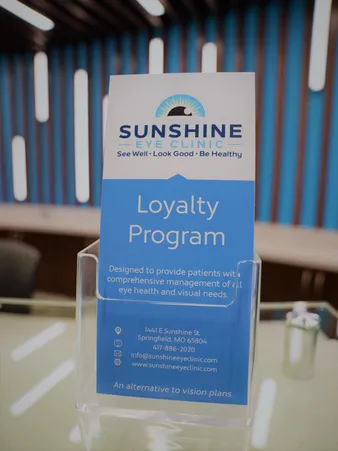 At Sunshine Eye Clinic, our commitment is to provide the highest quality eye care service, products, and materials to all our patients.
Vision plans often come with limitations that may impact your choice of doctor or which products they provide. Monthly withdrawals from your paycheck and co-payments at the time of service can hide the true cost of the plan. Now there is another choice.
Our new Loyalty Program is designed for patients who do not have a vision plan, or those who feel limited by their current vision plan.
Our Loyalty Program gives you the best in comprehensive care and lets you decide what products are best for you. We provide eyewear packages with products that our doctors recommend, giving you the best vision without compromise. We stand behind all our products and services so you can have peace of mind when it comes to your eye health and vision. The best part is you do not pay for anything until you need it.
Some of the benefits of our Loyalty Program include:
Full comprehensive health assessment of the eyes
Optomap retinal imaging (often replaces dilation)
Priority scheduling
Exclusive package pricing on eyewear and services
A free pair of polarized sunglasses with every purchase of a year supply of contact lenses (both eyes)
All this is included in the price of your exam.
For more details, please call or text our office at 417-886-2020