What Is Dry Eye Disease?
Dry eye disease is a widespread, chronic condition that effects around 50 million Americans. This chronic condition can have a significant impact on your quality of life, causing a foreign body sensation, pain, blurry vision, and dry or watery eyes.
Despite being widespread, many dry eye sufferers are not aware that they're suffering from dry eye disease or that real treatments exist. Instead, they suffer in silence with no real answers.
Sunshine Eye Clinic provides our dry eye patients with the best care possible by providing a wide range of treatment options. We're also proud to offer OptiLight by Lumenis to our patients, which is specially designed for dry eye management.
What Is OptiLight by Lumenis?
OptiLight by Lumenis is a light-based, non-invasive treatment done to the area below the eyes, and to the eyelids, to manage dry eye. It is the first and only IPL that is FDA-approved for dry eye management.
The treatment is safe, gentle, and backed by more than 20 clinical studies.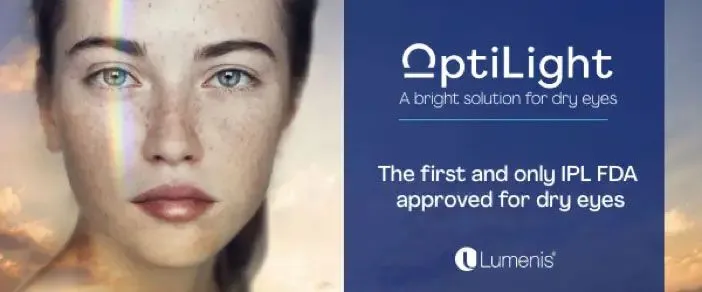 How Does It Work?
This application can significantly relieve dry eye symptoms and has a multi-factorial effect, including:
Increasing tear quality
Reducing the excessive amount of demodex mites and bacteria living around your eyes
Eliminating blood vessels that contribute to inflammation
Improving meibomian gland functionality
For more information, please follow this link
What to Expect
Before Your Treatment
Before arriving for your OptiLight appointment, you'll be asked to review a brief consent form and questionnaire that we'll email you ahead of time. You'll fill these forms out in our office on the day of your first treatment.
When you come in for your first treatment, we kindly ask that you arrive with clean skin and no makeup. You should also avoid tanning and significant amounts of direct sunlight for 2 weeks immediately prior to your appointment.
Finally, please avoid taking the following medications during the 2 weeks leading up to your appointment:
Tetracyclines (which are present in many antibiotics)
Topical retinoids (which are present in many acne creams, as well as lotions, gels, and foams)
During Your Treatment
This treatment is fast and simple. During the treatment your doctor will apply a cooled coupling gel on the treatment area and will apply shields for eye protection.
As light is applied to the skin, you may experience a warm sensation. The treatment is gentle with minimum discomfort. The treatment itself will only take 10–15 minutes.
When your OptiLight treatment is over, we'll clean off the gel and apply some sunscreen to the treated area. We may also perform meibomian gland expression in certain cases.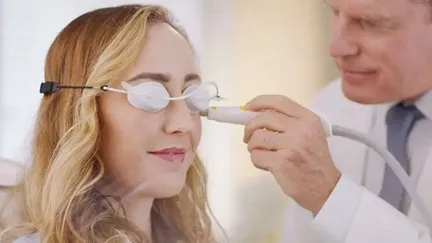 After Your Treatment
In between your treatments it will be important to provide UV protection to the treated areas. Any discomfort following the procedure will be temporary and can be addressed by applying cool compresses. Avoiding harsh face cleaning regimens will also aid in making sure your skin remains comfortable.


Treatment Plan
A course of treatment typically includes 4 sessions spaced 2–3 weeks apart, followed by a maintenance treatment every 6-12 months.
Is OptiLight by Lumenis Right for Me?
To find out if Lumenis IPL is right for you, come see us for a consultation. We will work hard to find the right dry eye solution for you.